Skip to content
Skip to navigation menu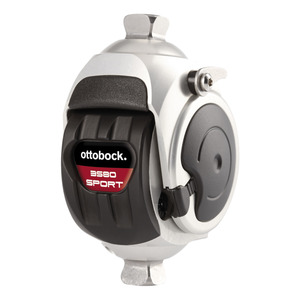 Modular Sports Knee Joint
Item #: 3S80
Fitness, K3, K4
Suggested HCPCS Coding: L5824 + L5925 + L5930
Restrictions to Coding and/or Coverage may apply
Learn more about our
Reimbursement Services
Overview
A sports knee joint has to withstand the high loads that develop and act on the prosthesis while running. The familiar, patented principle of rotation hydraulics is used in a modified form in the 3S80 Sport as well. The joint is also equipped with a manual lock.
Compact and robust, the 3S80 Sport is optimized for any type of running. The lower leg of the prosthesis swings through freely to an angle of about 60° in the flexion direction.
Even at high stride rates, a smooth extension stop is ensured by extension damping applied along the entire extension movement, which increases significantly shortly before reaching the end position. Flexion and extension damping can be adjusted separately and individually.
*Specific adaptations are available on request.
Specifications
| | |
| --- | --- |
| Activity Level | K3, K4 |
| Maximum Body Weight | 220 lbs (100 kg) |
| Proximal Connection | Pyramid Adapter |
| Distal Connection | Pyramid Adapter |
| Maximum Knee Flexion Angle | 135 degrees |
| Knee Center to Proximal Connection | 62 mm |
| Product weight | 682 g |
| Build Height | 84 mm |
| Distal Build Height | 38 mm |
| Proximal Build Height | 46 mm |