Skip to content
Skip to navigation menu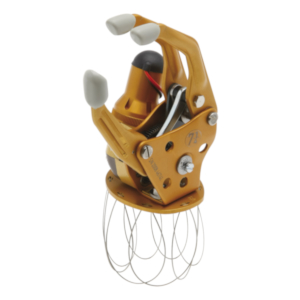 Transcarpal Hand DMC plus
Item #: 8E44=6
With lamination plate for wrist disarticulation to transcarpal levels
Overview
• Minimal clearance required
• Variable grip speed ranges from 15-130 mm/sec
• Cable Loops in lieu of lamination ring provide more flexibility in fabrication
• 30% lighter and 30% shorter than a standard 8E38 hand for longer amputations
• No Wrist rotation; Patient must be able to actively pronate and supinate the hand
Utilizing cable lamination anchors to maintain a minimum build height, the Transcarpal Hand DMC plus provides a compact myoelectric option for fitting residual limb lengths from wrist disarticulation to transcarpal levels.

The Transcarpal Hand DMC (Dynamic Mode Control) plus provides proportional control of grip speed and grip force in relation to the strength of the muscle signal.
The Transcarpal-Hand DMC plus can be operated with the 757B35=* MyoEnergy Integral, the 757B20/757B21 EnergyPack or the 757B15 X-ChangePack. It features a centrally guided flat cable, automatic shut-off electronics and integrated on-off switch, low-friction bevel gear, positive back lock and system inner hand. An integrated slip clutch allows the hand to be opened in case of power supply or myoelectric control failure.
Specifications
Article
number
Side
Size
Operating
voltage
Opening
width
Proportional
gripping force
Proportional
speed
Weight with
inner hand
For
8E44=6-L7 1/4
Left
7 1/4
6/7.2 V
100 mm
0 - 90 N
15 - 130 mm/sec
~308 g
Women, Adolescents
8E44=6-L7 3/4
Left
7 3/4
6/7.2 V
100 mm
0 - 90 N
15 - 130 mm/sec
~308 g
Men
8E44=6-L8 1/4
Left
8 1/4
6/7.2 V
100 mm
0 - 90 N
15 - 130 mm/sec
~308 g
Men
8E44=6-R7 1/4
Right
7 1/4
6/7.2 V
100 mm
0 - 90 N
15 - 130 mm/sec
~308 g
Women, Adolescents
8E44=6-R7 3/4
Right
7 3/4
6/7.2 V
100 mm
0 - 90 N
15 - 130 mm/sec
~308 g
Men
8E44=6-R8 1/4
Right
8 1/4
6/7.2 V
100 mm
0 - 90 N
15 - 130 mm/sec
~308 g
Men
Myo Glove Sizing for Hands
Hand Size
For
Standard Glove
Article Number
Skin Natural Glove
Article Number
5
Children 1-3 yrs old
8S20=136x41 (L/R) color
8S20N=136x41 (L/R) color
5 1/2
Children 3-6 yrs old
8S20=147x45 (L/R) color
8S20N=147x45 (L/R) color
6
Children 5-10 yrs old
8S20=162x56 (L/R) color
8S20N=162x56 (L/R) color
6 1/2
Children 8-13 yrs old
8S20=177x64 (L/R) color
8S20N=177x64 (L/R) color
7
Women, Adolescents
8S13=7 (L/R) color
8S13=7 (L/R) color
7 1/4
Men, Adolescents
8S11=190x76 (L/R) color
8S11N=190x76 (L/R) color
7 1/4
Women
8S12=190x78 (L/R) color
8S12N=190x78 (L/R) color
7 3/4
Men
8S11=210x78 (L/R) color
8S11N=210x78 (L/R) color
8 1/4
Men
8S11=225x80 (L/R) color
8S11N=225x80 (L/R) color