Skip to content
Skip to navigation menu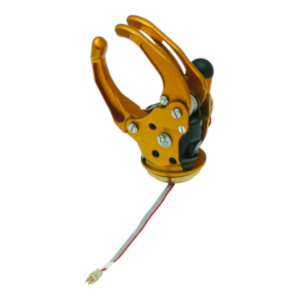 System Electric Hand Digital Twin
Item #: 8E39=7
With lamination ring for wrist disarticulation
Overview
Lamination ring suitable for wrist disarticulation. Passive wrist rotation with friction.
The Digital Twin control features a digital and dual channel control mode. The desired control mode is selected with the integrated 13E185 function plug.
The System Electric Hand Digital Twin can be operated with the 757B35=* MyoEnergy Integral, the 757B20/757B21 EnergyPack or the 757B15 X-ChangePack. It features a centrally guided flat cable with automatic shut-off electronics and integrated on-off switch, low-friction bevel gear, positive back lock and system inner hand. With potentiometer for adjusting the switching threshold (double-channel control). An integrated slip clutch allows the hand to be opened in case of power supply or myoelectric control failure.
Specifications
Myo Glove Sizing for Hands
Hand Size
For
Standard Glove
Article Number
Skin Natural Glove
Article Number
5
Children 1-3 yrs old
8S20=136x41 (L/R) color
8S20N=136x41 (L/R) color
5 1/2
Children 3-6 yrs old
8S20=147x45 (L/R) color
8S20N=147x45 (L/R) color
6
Children 5-10 yrs old
8S20=162x56 (L/R) color
8S20N=162x56 (L/R) color
6 1/2
Children 8-13 yrs old
8S20=177x64 (L/R) color
8S20N=177x64 (L/R) color
7
Women, Adolescents
8S13=7 (L/R) color
8S13=7 (L/R) color
7 1/4
Men, Adolescents
8S11=190x76 (L/R) color
8S11N=190x76 (L/R) color
7 1/4
Women
8S12=190x78 (L/R) color
8S12N=190x78 (L/R) color
7 3/4
Men
8S11=210x78 (L/R) color
8S11N=210x78 (L/R) color
8 1/4
Men
8S11=225x80 (L/R) color
8S11N=225x80 (L/R) color