Skip to content
Skip to navigation menu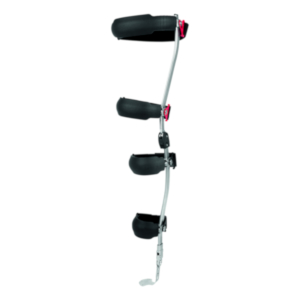 Free Walk Orthosis, Kit, Black
Item #: 170K1=L-120-OBA-7
Lightweight, superbly stable stance control KAFO
Overview
FreeWalk creates a smoother, more natural gait for patients who are unable to stabilize their knee without compensatory measures.
Stance control technology locks during stance and unlocks during swing for a more efficient gait.
Knee joint automatically locks prior to initial contact when joint is fully extended for added security.
Unilateral joint bar design offers increased comfort.
Open frame design makes the FreeWalk lighter and cooler than most alternatives and inconspicuous under clothing.
The removable knee joint cover protects the joint and the patient's clothing.
Quick release hooks make donning and doffing easy.
Specifications
| Patient Weight | Side | Color | Part number |
| --- | --- | --- | --- |
| up to 176 lbs (80 kg) | Left | Beige | 170K1=L-80-0 |
| up to 176 lbs (80 kg) | Left | Black | 170K1=L-80-7 |
| up to 176 lbs (80 kg) | Right | Beige | 170K1=R-80-0 |
| up to 176 lbs (80 kg) | Right | Black | 170K1=R-80-7 |
| up to 264 lbs (120 kg) | Left | Beige | 170K1=L-120-0 |
| up to 264 lbs (120 kg) | Left | Black | 170K1=L-120-7 |
| up to 264 lbs (120 kg) | Right | Beige | 170K1=R-120-0 |
| up to 264 lbs (120 kg) | Right | Black | 170K1=R-120-7 |