Skip to content
Skip to navigation menu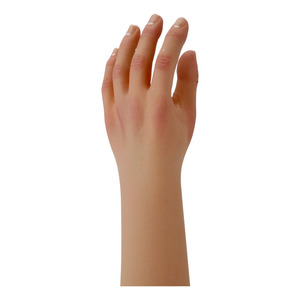 MyoSkin Natural
Item #: 8S12N
Overview
The 8S12N MyoSkin Natural Glove for women has a multi-layered design providing depth and a very vivid, natural appearance. Robust and easy to clean, the glove protects the prosthesis from dust, dirt and moisture.
MyoSkin Natural Gloves are especially designed for Myobock hands.
Multilayered structure provides natural appearance and resilient prosthetic covering
Dirt can be removed with water and soap, while tough stains can be cleaned with the 640F12 Ottobock Special Cleaner
Manufactured in seven colors (2,4,6,8,11,14,16); Use 646M47 color scale for selection
Multi-Layered PVC provides depth effect for vivid, natural appearance
Outer translucent layer allows colored fibers to shine through producing luminous quality
Treated with a special surface treatment for easy clean-up
Nail polish can be applied and reapplied to the finger nails and removed with acetone-free nail polish remover.
Specifications
Myo Glove Sizing for Hands
Hand Size
For
Standard Glove
Article Number
Skin Natural Glove
Article Number
5
Children 1-3 yrs old
8S20=136x41 (L/R) color
8S20N=136x41 (L/R) color
5 1/2
Children 3-6 yrs old
8S20=147x45 (L/R) color
8S20N=147x45 (L/R) color
6
Children 5-10 yrs old
8S20=162x56 (L/R) color
8S20N=162x56 (L/R) color
6 1/2
Children 8-13 yrs old
8S20=177x64 (L/R) color
8S20N=177x64 (L/R) color
7
Women, Adolescents
8S13=7 (L/R) color
8S13=7 (L/R) color
7 1/4
Men, Adolescents
8S11=190x76 (L/R) color
8S11N=190x76 (L/R) color
7 1/4
Women
8S12=190x78 (L/R) color
8S12N=190x78 (L/R) color
7 3/4
Men
8S11=210x78 (L/R) color
8S11N=210x78 (L/R) color
8 1/4
Men
8S11=225x80 (L/R) color
8S11N=225x80 (L/R) color