Skip to content
Skip to navigation menu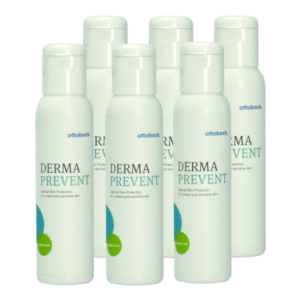 Derma Prevent (package of 6)
Item #: 453H12=GB-2
Protective coating to prevent chafing and contact with allergens
Overview
Derma Prevent
Prevents chafing
Inhibits contact with external allergens
Covers irritated skin with a protective film coating
Helps make the skin soft and supple
Reduces perspiration and eliminates odor
Size: 6 bottles, 100 ml each

The skin of prosthesis and orthosis wearers is subjected to particularly high stresses. Protection and regeneration are especially important here. Derma functional accessories are free of preservatives, dyes and perfumes – making them a perfect solution for sensitive skin. To keep you active with as little restriction as possible.

What matters and what you can do
For people wearing a prosthesis or orthosis, unavoidable mechanical stresses can have
adverse effects on the skin's function. There is often a close correlation between these causes and effects.

The main problems are:
Pain with pressure and friction, soreness
Build-up of perspiration and odor
Damage to the skin's protective and immune functions
Excessive hygiene or incorrect cleansing of the weakened skin


The Derma series offers a selection of skin care products that have been especially adapted to the needs of prosthesis and orthosis wearers: Derma Clean, Derma Prevent and Derma Repair.
Application:
Apply a thin layer of Derma Prevent to the skin prior to donning the prosthesis, orthosis or liner. Apply by dispensing a few drops in the palm of the hand and massage into skin until dry. Ideal for users of prosthetic liners.
Ingredients:
Cyclopentasiloxane, D imethicone, Cyclodextrin, C12-13 A lkyl Lactate, Farnesol, Parfum, Limonene, Linalool, Hexyl Cinnamal, Butylphenyl Methylpropional, Citronellol, Citral, Geraniol, Coumarin
Only for external use. Avoid contact with eyes, do not use with open wounds or in the case of infections. Please, shake prior to use. Dermatologist tested. Note: Keep in a cool and dry place.
Documents
DERMA Skin Care Products - Product Information
Product Information: 647G518 (EN/DE)
Publish date: Jan 1, 2014