Skip to content
Skip to navigation menu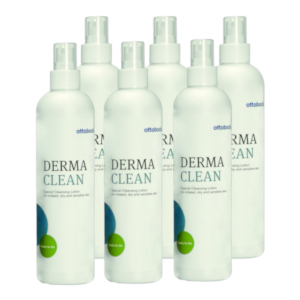 Derma Clean (package of 6)
Item #: 453H10=GB-2
Overview
Derma Clean Cleansing Lotion
For a thorough clean you can feel (specially formulated for prosthetic and orthotic applications)
Gentle to your skin
PH-neutral, free from alkalis and phosphates
Promotes hygiene through special anti-bacterial formula
Size: 6 bottles, 300 ml each

The skin of prosthesis and orthosis wearers is subjected to particularly high stresses. Protection and regeneration are especially important here. Derma functional accessories are free of preservatives, dyes and perfumes – making them a perfect solution for sensitive skin. To keep you active with as little restriction as possible.

What matters and what you can do
For people wearing a prosthesis or orthosis, unavoidable mechanical stresses can have
adverse effects on the skin's function. There is often a close correlation between these causes and effects.

The main problems are:
Pain with pressure and friction, soreness
Build-up of perspiration and odor
Damage to the skin's protective and immune functions
Excessive hygiene or incorrect cleansing of the weakened skin

The Derma series offers a selection of skin care products that have been especially adapted to the needs of prosthesis and orthosis wearers: Derma Clean, Derma Prevent and Derma Repair.
Application:
Apply Derma Clean Special Cleansing Lotion to the skin, rinse with clear water and repeat. If using to clean a liner, turn the liner inside out and wash thoroughly with Derma Clean. Rinse with clear water, repeat and wipe with a clean dry cloth. For best results, it is recommended to let the liner completely air dry.
Ingredients:
aqua, coco-glucoside, decyl glucoside, isopropyl alcohol, sorbitan caprylate, lauryl lactate, glycerin, lactic acid, ethyl lauroyl arginate hcl, potassium sorbate, piroctone olamine, sodium benzoate, parfum, limonene.
Only for external use. Avoid contact with eyes, do not use with open wounds or in the case of infections. Dermatologist tested. Note: Keep in a cool and dry place.
Documents
DERMA Skin Care Products - Product Information
Product Information: 647G518 (EN/DE)
Publish date: Jan 1, 2014