Skip to content
Skip to navigation menu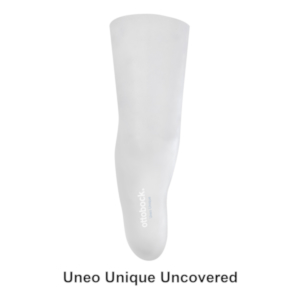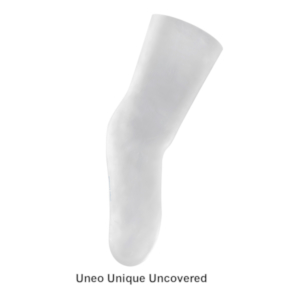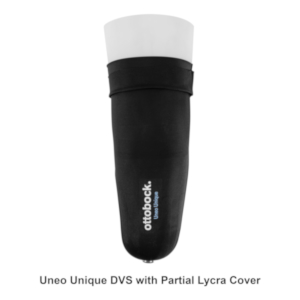 Uneo Unique BK - NEW
Item #: 6Y400
Custom Urethane liner designed from patient specific cast or scan.

We strive to produce and ship these within 5-7 business days once the order is received.
Suggested HCPCS Coding: L5681 or L5683 for initial liner
Additional/future liners from same mold: L5673 or L5679
Learn more about our
Reimbursement Services
Overview
Custom urethane liners provide the best protection, stability, & function for irregularly shaped residual limbs or when sensitivity or scarring is present.
Specialized polyurethane formula provides improved tear and puncture resistance while maintaining the "floating" characteristic that provides protection, stability, and function
Special coating is easier to clean and has a long history of skin safety
Non-stick treatment delivers greater liner consistency and easy use
Usually used in combination with a sealing sleeve and valve or with the Harmony vacuum volume management system, but also available in locking
Suitable for patients at all activity levels with a sensitive, bony, or scarred residual limb
DVS suspension option now available on Uneo Unique custom liners
Ottobock FREE Custom4U Scanner App now available for iPad/Structure scanner (see instructions in Documents tab)
Serial number location: To find serial number, invert liner inside out and look at the distal end for the laser etched information. Talc powder rubbed on etching may help to read.
Try our Interactive Liner Selection Tool here: https://academy.ottobockus.com/toolbox/liners/liners
Specifications
Order Options
Wall Thickness: Uniform
6 mm uniform distal
wall to proximal
Wall Thickness: Tapered
6 mm MPT to
3 mm proximal
Distal Thickness: Locking
18 mm
Distal Thickness: Cushion
13 mm
Locking Mechanisms: KISS
TF
Shuttle Lock
TT + TF
Dynamic Vacuum System
TT
Exterior Options
Uncovered / Partial Cover / Full Textile Cover
Spandex Fabric 0.6 mm
Color: Black or Beige
Wearforce 1.6 mm
Color: Black or Beige
Silver Fabric 1.0 mm
Color: Silver
Additives
None / Fresh Scent or Skinguard Antibacterial
Fitting Opportunities

| | | |
| --- | --- | --- |
| | Recommended Solution | Possible Solution |
| KISS Lanyard System | - | TF |
| Shuttle Lock System | - | TF + TT |
| Valve System | TT | TF |
| Dynamic Vacuum System | TT | - |
| Harmony (P3 & P4) | TT | TF |
| Harmony P2 | TT | TF |
Custom Liner Options

| | |
| --- | --- |
| Article Number | Custom Liner Descriptions |
| 6Y400 | Uneo Unique (Custom TT/BK) |
| 6Y402 | Uneo Unique-BK Replace Liner |
| 6Y404 | Uneo Unique BK Standard - ALTERATION |
| 6Y430 | Uneo Unique AK Standard - NEW |
| 6Y432 | Uneo Unique AK Standard - REPLACEMENT |
| 6Y434 | Uneo Unique AK Standard - ALTERATION |