Skip to content
Skip to navigation menu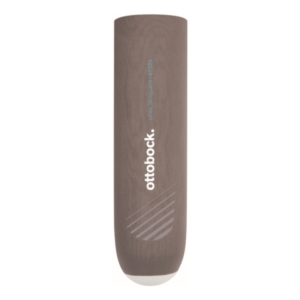 Overview
Polyurethane liner with a tapered wall, designed for patients of all activity levels.
Without distal connection
Made of skin-friendly polyurethane to ensure even pressure distribution and high shock absorption
Wall thickness of 6 mm in the distal area (up to 10 cm) tapers to 3 mm in the proximal direction for additional protection of the residual limb
Floating effect maintains a precise, comfortable fit
Available with Skinguard antibacterial additive (-G)
6Y523 comes with textile cover (6Y522 is available without textile cover)
Suitable for all residual limb types, especially sensitive, bony, and/or scarred residual limbs
Ideal for use with an exhaust valve and sealing sleeve or with the Harmony vacuum volume management system
Serial number location: To find serial number, invert liner inside out and look at the distal end for the laser etched information. Talc powder rubbed on etching may help to read.
Try our Interactive Liner Selection Tool here: https://academy.ottobockus.com/toolbox/liners/liners
Specifications
Article Number
6Y523
6Y523-G
Type of Liners
TransTibial (TT)
TransTibial (TT)
Liner Material
Urethane
Urethane
Suspension Method
Cushion/Valve, Harmony Vacuum
Cushion/Valve, Harmony Vacuum
Covering
Full Textile
Full Textile with Skinguard Additive (-G)
Shape
Cylindrical
Cylindrical
Sizes
6Y523=190
6Y523=210
6Y523=230
6Y523=250
6Y523=290
6Y523=310

6Y523=190-G
6Y523=210-G
6Y523=230-G
6Y523=250-G
6Y523=290-G
6Y523=310-G

Documents
6Y430, 6Y540, 6Y400, 6Y416, 6Y510, 6Y512, 6Y520, 6Y521, 6Y522, 6Y523 Polyurethane Liners - Instructions for Use
Instructions for Use
PDF Document | Published: Mar 15, 2021