Skip to content
Skip to navigation menu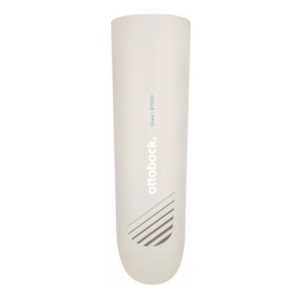 A simple and effective liner made from skin-friendly polyurethane.
Overview
A simple and effective liner for patients of all activity levels:
Made of skin-friendly polyurethane
Thicker in the distal 5 cm of the residual limb for maximum protection against forces acting on the socket
Floating effect maintains a precise, comfortable fit
Ideal for use with an exhaust valve and sealing sleeve or with the Harmony vacuum volume management system
Often used in combination with a sealing sleeve and valve
Suitable for all residual limb types, especially sensitive, bony, and/or scarred residual limbs
Available in various sizes, with or without a textile cover
Serial number location: To find serial number, invert liner inside out and look at the distal end for the laser etched information. Talc powder rubbed on etching may help to read.
Sizing: Measure the residual limb circumference 4 cm above the distal end of the residual limb and select the liner size corresponding to this measurement or the next smaller size.
Try our Interactive Liner Selection Tool here: https://academy.ottobockus.com/toolbox/liners/liners
Specifications
Sizing: Measure the residual limb circumference 4 cm above the distal end of the residual limb and select the liner size corresponding to this measurement or the next smaller size.

| Part number (SAP) | 6Y520=* | 6Y520=*-9 | |
| --- | --- | --- | --- |
| Type of Liners | TransTibial (TT), TransFemoral (TF) | TransTibial (TT), TransFemoral (TF) | |
| Liner Material | Urethane | Urethane | |
| Suspension Method | Cushion/Valve, Harmony Vacuum | Cushion/Valve, Harmony Vacuum | |
| Covering | Uncovered | Full Textile | |
| Shape | Cylindrical | Cylindrical | |
| Sizes | 6Y520=190 6Y520=230 6Y520=290 6Y520=330 6Y520=400 | 6Y520=190-9 6Y520=230-9 6Y520=290-9 6Y520=330-9 6Y520=400-9 | |
Documents
6Y430, 6Y540, 6Y400, 6Y416, 6Y510, 6Y512, 6Y520, 6Y521, 6Y522, 6Y523 Polyurethane Liners - Instructions for Use
Instructions for Use
PDF Document | Published: Mar 15, 2021