Skip to content
Skip to navigation menu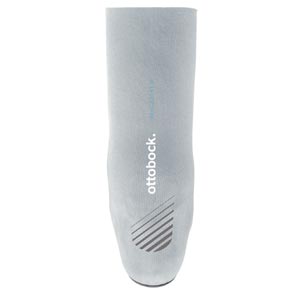 Skeo 3D (TT/BK)
Item #: 6Y78
Locking liner with built in knee flexion and added thickness over bony prominences, with Skinguard antibacterial for reduced odors.
Anatomically shaped silicone liner with varying wall thickness for comfort and easy flexion:
Skinguard antibacterial for reduced odors
Geometry comes as close as possible to the residual limb's natural shape
High wall thicknesses protect sensitive areas against pressure and impacts
Thin material regions improve flexibility
Preflexed so the knee bends easily
Textured inner surface improves adhesion and channels moisture away from skin 
Distal stabilizing matrix eliminates longitudinal stretching and pistoning 
Proprietary textile cover makes it easy to put on and take off
Available in three residual limb lengths and nine residual limb circumferences
For below-knee amputations 
Recommended for use in combination with a shuttle lock system
Two measurements are needed to determine the correct size of the liner:
Measure the length from MPT to the end of the residual limb to determine residual limb length.
Measure the circumference 40 mm (1 1/2 in) above end of the residual limb to determine residual limb circumference.
Serial number location: Serial number is etched into the cap at the distal end of the liner. Talc powder rubbed on etching may help to read.
Type of Liners
TransTibial (TT)
Liner Material
Silicone
Antibacterial
Yes - Skinguard
Suspension Method
Locking/Lanyard
Covering
Full Textile
Shape
Preflexed
Anti-Pistoning Matrix
Yes
Sizes
6Y78=180X125
6Y78=200X125
6Y78=220X125
6Y78=220X175
6Y78=235X125
6Y78=235X175
6Y78=250X125
6Y78=250X175
6Y78=265X125
6Y78=265X175
6Y78=265X75
6Y78=280X125
6Y78=280X175
6Y78=300X175
6Y78=320X175