Skip to content
Skip to navigation menu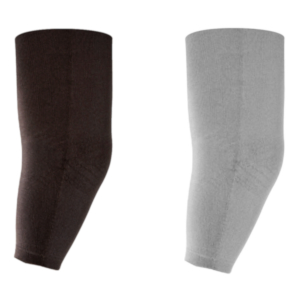 Derma ProFlex short
Item #: 453A4=K
Black or Silver; 31-33cm overall length
Suggested HCPCS Coding: L5685
Restrictions to Coding and/or Coverage may apply
Learn more about our
Reimbursement Services
Overview
The Derma ProFlex Knee Sleeves 453A3 and 453A4 are anatomical preshaped sealing sleeves made from a durable Copolymer (TPE) covered with a textile. The anatomical shape is a combination of 3 different features:
15° pre-flexion allows for easier bending of the knee and signifi cantly reduced amount of wrinkles in the knee fold
Slight conical proximal shape for increased the wearing comfort and a stronger conical distal shape for a tight sealing of the socket
Anatomical shaped patella area for reduced pressure during the whole movement process
The combination of these 3 factors provides the patient a high degree of functionality and wearing comfort. The Derma ProFlex Knee Sleeves are mostly used as the primary suspension or with a valve or the Harmony System and are suitable for amputees in the low to high activity levels.
Available in colors Silver or Black (-7).
Specifications
| | | | |
| --- | --- | --- | --- |
| Article number for color SILVER | 453A4=1 | 453A4=2 | 453A4=3 |
| Article number for color BLACK | 453A4=1-7 | 453A4=2-7 | 453A4=3-7 |
| Size | 1 | 2 | 3 |
| Knee center circumference | 24 - 32 cm | 30 - 40 cm | 36 - 47 cm |
| Circumference 20 cm proximal to knee center | 34 - 46 cm | 40 - 54 cm | 48 - 66 cm |
| Overall Length | 31 cm | 31 cm | 33 cm |