Skip to content
Skip to navigation menu

Kenevo microprocessor knee
Kenevo is the first microprocessor knee designed specifically for the activities and challenges of K2 patients. With Kenevo, your K2 patients can feel more secure and confident as they go about their daily activities or challenge themselves through the rehab process.
Five essential functions
Supported Sitting Down function
Featuring Ottobock's patented Inertial Motion Unit control process, Kenevo automatically detects when the wearer begins to sit down and adjusts the hydraulic resistance to provide progressive support during the movement. This allows the wearer to complete the motion in a controlled manner and at a controlled pace.

Supported Standing Up function
As the wearer begins to stand up, Kenevo provides support by locking in the flexion direction (from 45° up to fully extended). That enables individuals who cannot stand in a single motion to pause and still maintain control.
Standing function
Maintaining safety and balance while standing is critical for K2 patients. Unlike mechanical knees, Kenevo offers you a range of programmable stance stability options that can be customized to support each patient's individual capabilities.
Safety functions
Kenevo delivers unmatched safety to K2 patients through the implementation of:
Stumble Recovery Plus, which detects a stumble during swing phase and automatically adjusts resistance to provide the highest level of stability to enable the wearer to recover balance faster.
Special Safety Mode, which activates an increase in damping should the knee overheat or the battery depletes.
Wheelchair function
If more clearance is needed between the prosthesis and the ground while the wearer is seated in a wheelchair, Kenevo can be easily locked between 45° flexion and nearly full extension.
Kenevo adapts to individual mobility capabilities
In addition to the five essential functions, Kenevo offers programmable stance and swing release control functions to adapt to your patients' different mobility capabilities. This allows you to provide the proper level of support as patients become more active or require more assistance. See the Kenevo training materials for more details.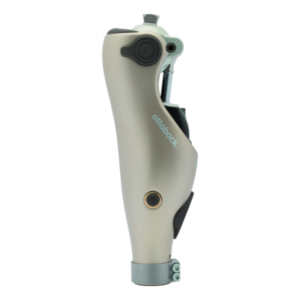 Added to your shopping cart
Product Availability by Store Location