Skip to content
Skip to navigation menu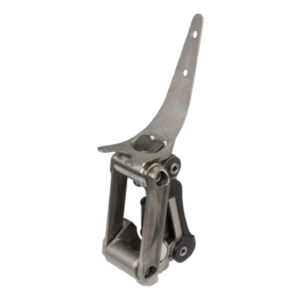 Polycntr. Knee Joint for KD, Titan.
Item #: 3R46
Suggested HCPCS Coding: L5613
Restrictions to Coding and/or Coverage may apply
Learn more about our
Reimbursement Services
Overview
The upper joint section and lower joint section with pyramid adapter are connected to one another by anterior and posterior linkage bars. The detachable lamination anchor connects the knee to the prosthetic socket. Stance phase stability is achieved through polycentric kinematics. The swing phase is controlled by the built-in hydraulic cylinder. Flexion and extension resistance are independently adjustable.
Specifications
| | |
| --- | --- |
| Activity Level | K3, K4 |
| Maximum Body Weight | 275 lbs (125 kg) |
| Material | Titanium |
| Proximal Connection | Lamination Anchor |
| Distal Connection | Pyramid Adapter |
| Maximum Knee Flexion Angle | 110 degrees |
| Knee Center to Proximal Connection | 18 mm |
| Product Weight | 740 g |
| Build Height | 117 mm |
| Distal Build Height | 100 mm |
| Proximal Build Height | 17 mm |