Skip to content
Skip to navigation menu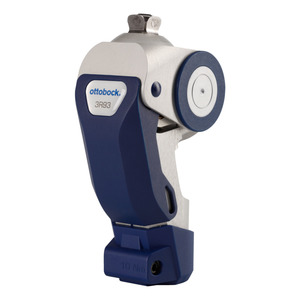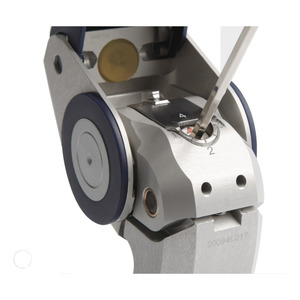 Modular Brake Knee Joint with Lock
Item #: 3R93
Overview
The modern therapy knee joint
The 3R93 is a monocentric knee joint with a load-dependent brake mechanism and an optional locking function. An integrated, adjustable extension assist spring controls the swing phase.
The 3R93 effectively supports the therapy process following the amputation. This makes it the right knee joint from the first standing and walking exercises with the interim prosthesis all the way to the definitive fitting. Thanks to its design, the 3R93 can be used as a locked knee joint with manual lock release and as a knee joint with friction brake once the prosthesis wearer's mobility has increased.
When the locking function is activated, it secures the joint in the extended position. The user pulls on a cable to release the joint so it can bend for sitting.
The locking function can also be permanently deactivated by the prosthetist.
When the locking function is permanently deactivated, knee stability is achieved through the brake mechanism that blocks the joint in the flexion direction under load. The brake activates when load is applied to the heel and stabilizes the prosthesis during the entire stance phase. The brake also offers the desired security when stepping down with a slightly flexed knee joint with up to 5 degrees of stance flexion. The braking and stance flexion action can be adjusted easily and reproducibly (see upper figure and IFU for details).
To initiate the swing phase, the user relieves the load on the prosthesis which deactivates the brake. The integrated extension assist spring (see lower figure), which can be optimally adjusted from the outside, controls the pendulum motion of the prosthetic lower leg.
The 3R93 Modular Friction Brake Knee Joint with Lock is not suitable for patients with:
- Hip disarticulation
- Hemipelvectomy
- Bilateral amputation trans-femoral
Scope of Delivery
3R93 Modular Brake Knee Joint with Lock
2R77 Tube Adapter
710H10=2X3 Adjustment Wrench
4F18=N Lock Slide, Complete
Specifications
| | |
| --- | --- |
| Activity Level | K1, K2 |
| Maximum Body Weight | 275 lbs (125 kg) |
| Material | Aluminum |
| Proximal Connection | Pyramid Adapter |
| Distal Connection | Tube Clamp (34 mm diameter) |
| Maximum Knee Flexion Angle | 130 degrees |
| Knee Center to Proximal Connection | 25 mm |
| Product Weight | 760 g |
| Build Height | 141 mm |
| Distal Build Height | 115 mm |
| Proximal Build Height | 26 mm |