Skip to content
Skip to navigation menu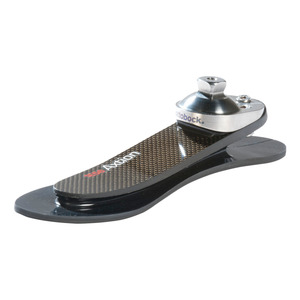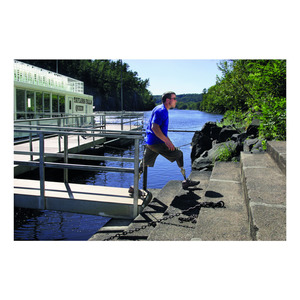 1E56 Axtion Prosthetic Foot
Item #: 1E56
Suggested HCPCS Coding: L5981
Restrictions to Coding and/or Coverage may apply
Learn more about our
Reimbursement Services
Overview
The 1E56 Axtion® is a compact and lightweight high-performance foot for active amputees. Its low clearance makes it particularly well suited for patients where only limited space is available. As an all-round talent, the 1E56 Axtion® is ideal for everyday use as well as for recreational sports.
A unique combination of flexible carbon springs and elastic polyurethane results in the optimum performance of the Axtion® during all gait phases: The dynamic heel element effectively absorbs the impact load at heel strike. Heel stiffness and the resulting knee dynamics can be adapted to the individual requirements of the patient by using different heel wedges, which are included in the scope of delivery. During rollover, the especially long supporting foot length offers exactly the right amount of support required for a natural gait pattern. The polyurethane layer compensates for small surface irregularities. Excellent forefoot dynamics support the transition to the swing phase by returning the stored energy. The Axtion® thus supports a controlled toe-off, even at high walking speeds.
The scope of delivery for the 1E56 Axtion® includes a Spectra-Sock as well as one transparent heel wedge (soft) and one anthracite heel wedge (firm). The 2C5 Footshell for the Axtion® must be ordered separately. It is available in the colours beige (4) and light brown (15).
The ankle moments of the Axtion® cause heavy strain on the adjacent prosthetic components. Therefore, it is necessary to use adapters of the next higher weight class below the knee joint (e.g. for a patient with a body weight of 90 kg (198 lbs): use adapters rated up to 125 kg (275 lbs)). The prosthetic foot is designed for use with a footshell. Without a footshell, the individual foot is shorter than the size indicates.
Specifications
| | |
| --- | --- |
| Activity Level | K3, K4 |
| Maximum Body Weight | 275 lbs (125 kg) |
| Heel Height | 13 +/- 5 mm |
| Side | Right (R), Left (L) |
| Sizes | 22 cm - 31 cm |
| Stiffness | 1, 2, 3, 4, 5 |
| ~ Min. Clearance Height | 54 mm (2 1/8") |
| Product weight w/o footshell | 310 g - 410 g |
Stiffness (footshell shape)

| | | | | | | | | | |
| --- | --- | --- | --- | --- | --- | --- | --- | --- | --- |
| | 22 cm | 23 cm | 24 cm | 25 cm | 26 cm | 27 cm | 28 cm | 29 cm | 30 cm |
| Up to 111 lbs (up to 50 kg) | 1 | 1 | 1 | 1 | 1 | 1 | 1 | 1 | 1 |
| 112 to 144 lbs (51 - 65 kg) | 2 | 2 | 2 | 2 | 2 | 2 | 2 | 2 | 2 |
| 145 to 188 lbs (66 - 85 kg) | 3 | 3 | 3 | 3 | 3 | 3 | 3 | 3 | 3 |
| 189 to 221 lbs (86 - 100 kg) | 4 | 4 | 4 | 4 | 4 | 4 | 4 | 4 | 4 |
| 222 to 275 lbs (101 - 125 kg) | 5 | 5 | 5 | 5 | 5 | 5 | 5 | 5 | 5 |