Covid-19 Updates
Follow this page for more information on the work Ottobock is doing on behalf of our employees, customers, and the individuals who rely on our products and services during this unprecedented time.
---
Department Status
Supply Chain Warehouse
We are still maintaining same day shipping.
Ground shipments and air shipments must be placed before 3:30 pm CST.
We are experiencing no supply chain delays.

Customer Service
Customer service professionals are available to take your calls. Call or email us today!
Hours of Operation: 7:30 am CST to 6:00 pm CST

Professional Clinical Services
Ottobock's Professional and Clinical Services department has the largest and most experienced staff in the industry. Call today if you need help with product support or patient care. We are available provide help via telephone or videoconferencing. You can reach us through Customer Service or find our direct contact information on our PCS Staff page.

Take advantage of education on your time and your terms. Pre-recorded online courses are available with free ABC CEUs during the COVID-19 outbreak. Please join us online for live webinars every Wednesday and Thursday from 12:00 pm to 1:00 pm CST

After-Sales Service Department
Our Salt Lake City facility is fully functional and available for loaner fulfillment and product service & repairs.
United States
Phone: 800 328 4058 x9-2205
E-Mail: OBUSAService@ottobock.com
Hours of Operation: 7:30 am CST to 6:00 pm CST
---
IPC postpones Paralympic Games by one year
March 24, 2020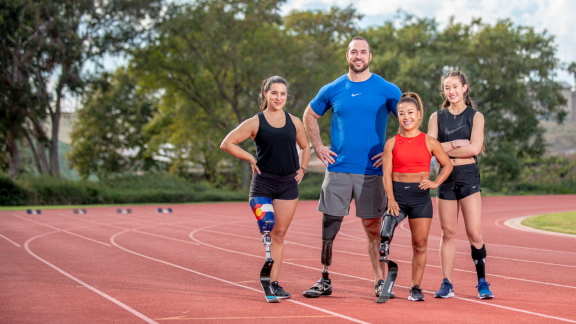 Ottobock will support athletes at the Paralympics in Tokyo 2021
On March 24th, the International Olympic Committee (IOC) decided to postpone the Olympic Games until 2021. The reason for this decision is the worldwide corona pandemic. The International Paralympic Committee (IPC) endorsed this decision a few hours later.
"The love for the Paralympics is deeply rooted in the DNA of our company," said Professor Hans Georg Näder, owner and Chairman of the Board of Ottobock, in response to the postponement of the Games. "During this unprecedented crisis, we are sticking together. Postponing the Games is the right thing to do. At this time, it is crucial that we protect the well-being of the athletes, spectators and the global Paralympic Family. Stay safe!"
As an official technical service partner, Ottobock will continue to service all athletes without charge in 2021. "We are really looking forward to assisting the athletes from all over the world at the Paralympic Games in Tokyo. If not in 2020, then in 2021," said Peter Franzel, Ottobock's Paralympics Organising Director.
You can read the IPC's announcement here: https://www.paralympic.org/news/ipc-reaction-tokyo-2020-paralympic-games-postponed.
---
Weathering the COVID-19 Storm Together
March 20, 2020
To our valued customers,
We know you are under tremendous pressure to take care of your patients and business despite increasing restrictions due to COVID-19. Our goal is to help keep your business as healthy and viable as possible during this turbulent time.
We will communicate with you each week to make sure you're kept up to date on measures we're taking to support you and your business. If you find yourself in need of special support, please contact us. Ottobock has several resources available and you have our commitment that we will do everything we can to work with you. Ottobock has been serving the O&P profession for over 100 years thanks to your support and we stand by you in this time of need. We are in this together and together we will get through this crisis.
This week's updates:
Offering free CEUs with online education
We recognize that you want to keep your skills sharp and your employees engaged in the days and weeks ahead. Our online courses are designed to help you stay up to date on Ottobock products, best practices, and troubleshooting. Starting this week, we are waiving all fees associated with our CEU-eligible courses. Click here to learn more.
New education avenues in development
Social distancing has challenged us to find new ways to bring educational opportunities to you. Our incredible Professional Clinical Services Team has developed new programs that we'll begin rolling out next week to provide additional e-learning. Stay tuned!
Order fulfillment and same-day shipping are in good shape
This week we made shift changes to protect the health of our team members who keep our logistics operations running. Even while practicing social distancing, we are still maintaining same day shipping for orders placed before 3:30 pm CST for ground and 5:00 pm CST for air. We have not experienced any major supply chain delays at this point, but will keep you updated if that changes.
Salt Lake City operations back online
To add to the chaos of the times, our operations in Salt Lake City were impacted by an earthquake that shook the area on Wednesday. Thankfully no injuries were reported and every department is back up and running!
I want you to know that the entire Ottobock Family remains committed to providing the superior service and support you have come to expect of us. This sentiment runs through every corner of our organization and here you will find a link to a special letter from Ottobock owner Professor Hans Georg Nader reflecting this: a letter to our customers


Sincerely,

Brad Ruhl
Managing Director, Ottobock North America
---
A Message from Ottobock on COVID-19
March 13, 2020
To our valued customers,
Like so many of you, Ottobock has spent the last several days and weeks learning about the coronavirus (COVID-19) and how it is impacting our world. Our number one priority is the safety of our employees, customers, and the individuals who rely on our products and services. With that in mind, we feel it is necessary to share the proactive measures we are taking to ensure we can continue to support you and your patients during this unprecedented time. We understand this pandemic has the potential to significantly impact business and Ottobock is doing everything possible to avoid disruptions in service and support.
In-Office Support
Our Sales Representatives and Professional Clinical Services teams are still available to support you in the office. We understand you are likely taking precautions with regard to visitors and we respect those decisions. In the event you require assistance in-person from a member of our team, please know we have instructed all employees to adhere to the guidelines outlined by the Centers for Disease Control to minimize exposure not only for them, but also for you and your patients as well.
Supply Chain and Order Fulfillment
Our Customer Service and Logistics teams are working closely to ensure your orders are fulfilled on time. At this time, we have not experienced any significant disruption to our supply chain. In the event our supply chain is impacted due the coronavirus outbreak, we will notify you immediately of our inability to fulfill an order and work with you to find a solution that will minimize disruption to your business and your patients.
Returns and After Sales Service Requests
We continue to process returns and requests for service in accordance with our established processes. However, we understand that the need may arise to evaluate a specific case differently so please reach out to our team if that is the case.
We remain committed to providing the superior service and support you have come to expect of Ottobock. If you experience any specific challenges that require assistance from us, please reach out to your Ottobock Sales Representative.

Sincerely,

Brad Ruhl
Managing Director, Ottobock North America
---