Skip to content
Skip to navigation menu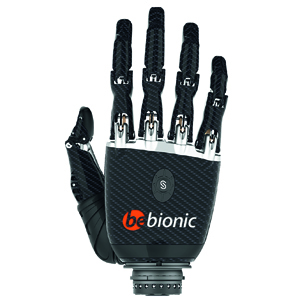 bebionic Configurator - Medium/Large Hand
Item #:bebionicML
Individual motors
in each finger allow you to move the hand and grip in a natural, coordinated manner.

14 selectable grip patterns
and hand positions let you perform a vast number of everyday activities with ease.

Foldaway fingers
provide natural looking movement, and flex when you brush past people or bump into objects.

Soft finger pads
and a wide thumb profile maximise the surface area and enhances your grip.

Powerful microprocessors
continuously monitor the position of each finger, giving you precise, reliable control over hand movements.

Auto grip means no more accidents,
as the bebionic automatically senses when a gripped item is slipping and adjusts the grip to secure it.

Proportional speed control
gives you precision control over delicate tasks.