Skip to content
Skip to navigation menu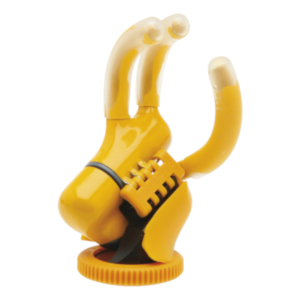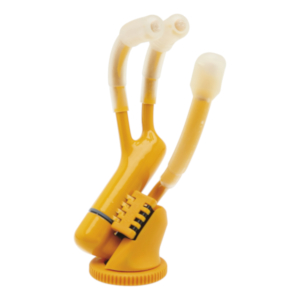 Otto Bock Electrohand 2000
Item #: 8E51
Myo hand for children
Overview
The System 2000 Children's electric hand system can be used for children 1 1/2 to 13 years old and is suitable for virtually all levels of amputation. The thumb and fingers rotate around the same axis, thereby executing a more compact rotation. Depending on the controller, it can be used for 4.8 V and 7.4 V children's hand fittings. It has passive hand rotation and centralized friction contact.
In combination with the MyolinoWrist 2000 ball wrist joint with adjustable friction, the Electric Hand 2000 can be positioned in all directions
Compensating movements of the arm are largely avoided
Movement patterns and the body posture appear more natural
Intelligent Battery Management

Delivery includes 9E347=* finger filler but does not include cosmetic glove (8S20*), controller (9E420*, 9E369 or 9E370) or lamination ring (10S16=*).

Available in four sizes:
Size 5 for children between 1 1/2 and 3 years old
Size 5 1/2 for children between 3 and 6 years old
Size 6 for children between 5 and 10 years old
Size 6 1/2 for children between 8 and 13 years old
MyoSelect Required for Programming
Specifications
Article
number
Side
Size
Operating
voltage
Opening
width
Approx. minimum
grip force
Weight
(without glove)
8E51=L5
Left
5
4.8/7.4 V
28 mm
8 N
86 g
8E51=L5 1/2
Left
5 1/2
4.8/7.4 V
37 mm
25 N
115 g
8E51=L6
Left
6
4.8/7.4 V
52 mm
35 N
125 g
8E51=L6 1/2
Left
6 1/2
4.8/7.4 V
58 mm
35 N
130 g
8E51=R5
Right
5
4.8/7.4 V
28 mm
8 N
86 g
8E51=R5 1/2
Right
5 1/2
4.8/7.4 V
37 mm
25 N
115 g
8E51=R6
Right
6
4.8/7.4 V
52 mm
35 N
125 g
8E51=R6 1/2
Right
6 1/2
4.8/7.4 V
58 mm
35 N
130 g
Myo Glove Sizing for Hands
Hand Size
For
Standard Glove
Article Number
Skin Natural Glove
Article Number
5
Children 1-3 yrs old
8S20=136x41 (L/R) color
8S20N=136x41 (L/R) color
5 1/2
Children 3-6 yrs old
8S20=147x45 (L/R) color
8S20N=147x45 (L/R) color
6
Children 5-10 yrs old
8S20=162x56 (L/R) color
8S20N=162x56 (L/R) color
6 1/2
Children 8-13 yrs old
8S20=177x64 (L/R) color
8S20N=177x64 (L/R) color
7
Women, Adolescents
8S13=7 (L/R) color
8S13=7 (L/R) color
7 1/4
Men, Adolescents
8S11=190x76 (L/R) color
8S11N=190x76 (L/R) color
7 1/4
Women
8S12=190x78 (L/R) color
8S12N=190x78 (L/R) color
7 3/4
Men
8S11=210x78 (L/R) color
8S11N=210x78 (L/R) color
8 1/4
Men
8S11=225x80 (L/R) color
8S11N=225x80 (L/R) color