Skip to content
Skip to navigation menu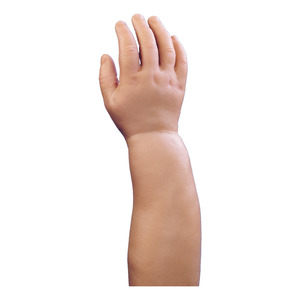 Cosmetic Glove
Item #: 8S6
For Body Powered and Passive Hands
Overview
For hand sizes 6 3/4, with long sleeve. Standard prosthetic glove available in 18 different shades
In addition to the standard prosthetic glove, Otto Bock also offers additional models of the Skin Natural series. The multilayer structure of the gloves gives them a depth effect so that they have a very vivid appearance. The outer translucent layer allows the coloured fibres of the material to shine through. This simulates the natural vein structure of human skin.
To order them, please enter an N before the =: example 8S11=210x78xL4 standard glove 8S11N=210x78xL4 MyoSkin Natural Please ask our customer service for the available colours.
The entire range of colours for Skin Natural models comprises of six colours. The new 646M47 colour scale helps when selecting the right pattern.