Skip to content
Skip to navigation menu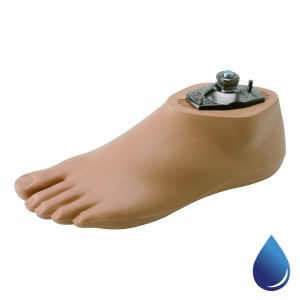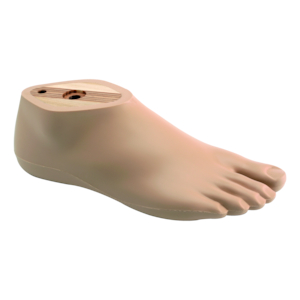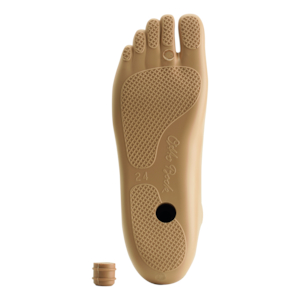 Foot for water resistant prosthesis
Item #: 1WR95
Aqualine prosthesis
Overview
The 1WR95 Aqua-Foot is water-resistant. It is equipped with a grid-shaped sole tread and has excellent floor adhesion thanks to its particular material composition and moulding. It has a natural shape with defined toes and an abducted big toe. The proximal contact surface in the modular version described here is coated ex factory with sealing resin against water penetration and connected to a high-grade titanium foot adapter. Access to the adapter's screw on the sole of the foot is sealed with a plug.
Foot can be ordered with endoskeletal pyramid foot adapter already attached or without foot adapter for exoskeletal fabrication (ankle block must be ordered separately)

Accordingly, the inclusion of the pyramid adapter is indicated with the following part numbers:
1WR95=R25-0-W/4 without pyramid adapter
1WR95=R25-0-P/4 with pyramid adapter

According to the Ottobock alignment recommendations, bench alignment of the waterproofwalking aid with the 1WR95 Aqua-Foot on 0 mm heel height is usually only possible withthe aid of the angled tube adapter. Therefore use the 2WR95=1 Angled Tube Adapter. If needed, the 2WR95 Tube Adapter which is not angled may be used for TF amputees in the transfemoral area.
Specifications
| | |
| --- | --- |
| Activity Level | K1, K2 |
| Side | Right (R), Left (L) |
| Footshell Shape | Normal(N) |
| Maximum Body Weight | 330 lbs (150 kg) |
| ~ Min. Clearance Height w/o adapter | 98 mm (3 7/8") |