Skip to content
Skip to navigation menu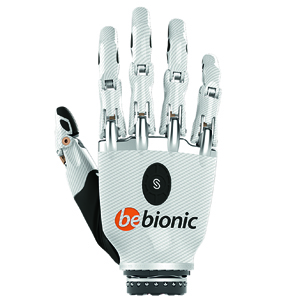 bebionic Configurator - Small Hand
Item #:bebionic
Intelligent finger sensing
Our patented encoding solution tracks and senses each finger throughout its every move, simulating the function of a human hand.

Rare magnets improve power
Individual actuators engage rare earth magnets on each finger to enhance performance with a balance of speed and strength.

Smaller proportions
30% smaller than the bebionic medium, making it the perfect size for women, adolescents, and smaller-framed men.

"Bubble" fingertips
The only lifelike fingertips featuring air bubbles to maximise the interaction between the wearer and the objects they handle with superior precision.

Lifelike design
Inspired by and built to match the actual skeletal structure of the human hand, making the bebionic the most anatomically correct prosthetic hand on the market.

Natural weight distribution
Weighs just 390 grams with distribution of weight towards the wrist for natural and comfortable movement.