Skip to content
Skip to navigation menu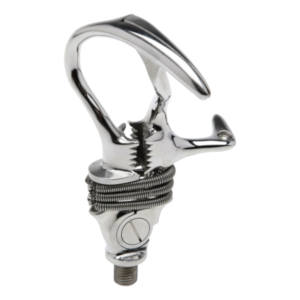 All Purpose Hook - VO
Item #: 10A12
Added to your shopping cart
Overview
All purpose stainless steel hook.
This cable control hook was developed for workmanship activities. Its special shape allows to carry out a number of various activities.
The Hook is in the shape of a ring with hook when in closed condition.
When used for work with a shovel, the branches are arranged so as to provide additional closing force under load.
Specifications
| Article number | 10A11=* | 10A60=* | 10A18=* | 10A12=* |
| --- | --- | --- | --- | --- |
| Weight (g) | 135 | 250 | 110 | 330 |
| Total height (mm) | 135 | 135 | 142 | 145 |
| Opening width (mm) | 69 | 69 | 68 | 81 |
| Grip force (N) Pos. A | 9 | 9 | 9 | 13 |
| Grip force (N) Pos. B | 38 | 38 | 45 | 13 |
Documents
Mechanical Arm Components - Portfolio Overview
Product Information: Movo_Overview (EN)
Publish date:
Arm Prostheses System Overview
Product Information: 646F286 (EN)
Publish date: May 1, 2013