Skip to content
Skip to navigation menu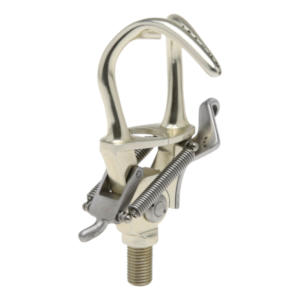 Adult Hook VO
Item #: 10A18
Added to your shopping cart
Overview
Standard hook, model 58. Aluminum alloy.
This cable control hook was developed for simple workmanship activities. A cross tappet is located on the inside of the fix branch and serves as girder and outer support.
The pair of springs can be used to select two levels of grip force. If the spring lever is set proximally, the grip force is lower. This setting is intended for ordinary everyday use and for grasping objects. It allows to use less energy while working. If the spring lever is set distally, the grip force is higher. This position is suited for holding an object in the hook.
Specifications
| Article number | 10A11=* | 10A60=* | 10A18=* | 10A12=* |
| --- | --- | --- | --- | --- |
| Weight (g) | 135 | 250 | 110 | 330 |
| Total height (mm) | 135 | 135 | 142 | 145 |
| Opening width (mm) | 69 | 69 | 68 | 81 |
| Grip force (N) Pos. A | 9 | 9 | 9 | 13 |
| Grip force (N) Pos. B | 38 | 38 | 45 | 13 |
Documents
Mechanical Arm Components - Portfolio Overview
Product Information: Movo_Overview (EN)
Publish date:
Arm Prostheses System Overview
Product Information: 646F286 (EN)
Publish date: May 1, 2013