Skip to content
Skip to navigation menu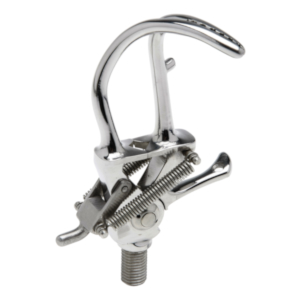 Adult Hook VO
Item #: 10A60
Added to your shopping cart
Overview
Stainless steel voluntary opening hook for adults.
The pair of springs of the cable control hook can be used to select two levels of grip force. If the spring lever is set proximally, the grip force is lower. This setting is intended for ordinary everyday use and for grasping objects. It allows to use less energy while working.
If the spring lever is set distally, the grip force is higher. This position is suited for holding an object in the hook. The recess in the area between both branches can be used for anchoring oblong objects, such as a file without a handle.
Exchangeable finger covers can be mounted on the branches. This will provide the hook with a non-skid surface. So it is possible to move a sheet of paper by the back side of the fingers.
A tappet about 8 mm (0.3 in.) in length is located on the outside of the movable finger providing three-point support for e.g. holding a pencil.
Specifications
| Article number | 10A11=* | 10A60=* | 10A18=* | 10A12=* |
| --- | --- | --- | --- | --- |
| Weight (g) | 135 | 250 | 110 | 330 |
| Total height (mm) | 135 | 135 | 142 | 145 |
| Opening width (mm) | 69 | 69 | 68 | 81 |
| Grip force (N) Pos. A | 9 | 9 | 9 | 13 |
| Grip force (N) Pos. B | 38 | 38 | 45 | 13 |