Skip to content
Skip to navigation menu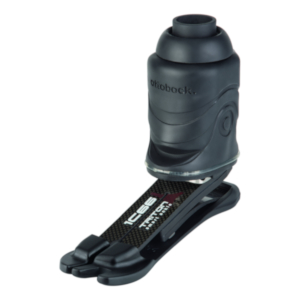 Triton smart ankle
Item #:1C66
The Triton smart ankle lives up to its name, combining the well-engineered Triton foot with the power of state-of-the-art microprocessor and sensor technology.
With 34 degrees range of motion, the Triton smart ankle opens up possibilities for your patients by actively responding to changes in terrain and speed to make walking easier, especially on ramps, slopes, and stairs. Make the ankle even smarter by using the app (free in the Apple or Google Play stores) to fine-tune the foot. You can even set parameters for your patient to accommodate their activities of daily living. And the long-lasting battery life of up to 96 hours gives your patients the freedom to roam without worrying about running out of power.
Get started by watching the Triton Smart Ankle Quick Start for Practitioners.
| | |
| --- | --- |
| Activity Level | K3 |
| Maximum Body Weight | 220 lbs (100 kg) |
| Heel Height | 0-2 in (0-50 mm) |
| Footshell Color | Beige (4), Brown (15) |
| Footshell Shape | Normal (N), Slim (S) |
| Side | Right (R), Left (L) |
| Stiffness | 1, 2, 3 |
| Sizes | 22 cm - 29 cm |
| Product weight (w/o footshell) | 1,263 g |
| Product weight (with footshell) | 1,470 g |
| ~ Min. Clearance Height (Slim, Size 22-23 cm) | 153 mm (6") |
| ~ Min. Clearance Height (Slim, Size 24 cm) | 154 mm (6") |
| ~ Min. Clearance Height (Slim, Size 25 cm) | 161 mm (6 3/8') |
| ~ Min. Clearance Height (Slim, Size 26 cm) | 163 mm (6 7/16") |
| ~ Min. Clearance Height (Slim, Size 27-28) | 167 mm (6 9/16") |
| ~ Min. Clearance Height (Slim, Size 29 cm) | 170 mm (6 11/16") |
| ~ Min. Clearance Height (Normal, Size 22-23 cm) | 148 mm (5 13/16") |
| ~ Min. Clearance Height (Normal, Size 24 cm) | 149 mm (5 7/8") |
| ~ Min. Clearance Height (Normal, Size 25cm) | 156 mm (6 1/8) |
| ~ Min. Clearance Height (Normal, Size 26 cm) | 158 mm (6 1/4") |
| ~ Min. Clearance Height (Normal, Size 27-28 cm) | 162 mm (6 3/8") |
| ~ Min. Clearance Height (Normal, Size 29 cm) | 165 mm (6 1/2") |
Stiffness (footshell shape)

| | 22 cm | 23 cm | 24 cm | 25 cm | 26 cm | 27 cm | 28 cm | 29 cm |
| --- | --- | --- | --- | --- | --- | --- | --- | --- |
| Up to 121 lbs (up to 55 kg) | 1 (S) | 1 (S) | 1 (S) | 1 (N) | 1 (N) | | | |
| 122 to 166 lbs (56 - 75 kg) | 2 (S) | 2 (S) | 2 (S) | 2 (N) | 2 (N) | 2 (N) | 2 (N) | 2 (N) |
| 167 to 221 lbs (76 - 100 kg) | | | | 3 (N) | 3 (N) | 3 (N) | 3 (N) | 3 (N) |