Skip to content
Skip to navigation menu
Telescoping Post-Op Brace,Short,Cool
Item #: 50K241
Range of Motion Knee Brace
Range of motion knee brace limits the motion between 0˚ to 120˚ and locks between 0˚ and 45˚. Cool, open design is ideal for warm environments.
Features
Telescoping uprights adjust from 19" (48.2 cm) to 26" (66 cm) allowing for optimal suspension from the malleolus
Telescoping cuffs avoid incision sites for individualized fitting and increased patient comfort
Buckle closures ease donning and doffing
Silicone infused foam and malleolus suspension ensure the brace maintains proper positioning for healing
Standard version fits thighs up to 36" (91.5 cm) in circumference
Packaged for quick and easy application in an operating room or recovery room setting
Indications
For locked or limited range of motion control following injury or operative
procedures of the knee.
Measure leg circumferences 6" (15.25 cm) above mid-patella.

| Size | Thigh Circumference | Part Number |
| --- | --- | --- |
| Universal | Up to 36" (91.5cm) | 50K241 |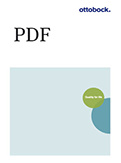 Telescoping Post-Op Brace Instructions for Use
Published Date: October 1, 2014